The Biology of Cancer: Environmental Drivers of Cancer
September 25, 2020 @ 11:00 am

-

12:30 pm

Free

---
The Biology of Cancer:
Exploring the Role of Race, Class, and Socioeconomics
in the Underserved and the Underrepresented
Behind cardiovascular disease, Cancer is the 2nd leading cause of deaths in the United States. What causes Cancer? Why have we not cured Cancer yet? What are some of the myths that surround Cancer care? Why do people of color seem to develop and die from Cancer at rates much higher than the majority of the population?
If you are interested in learning the answers to one or more of these questions, you should consider attending an engaging and stimulating, semester-long webinar series taught by cancer biologists, physicians, public health experts, and other cancer specialists from NCCU, UNC-Chapel Hill, and NC A&T. Additionally, you will have the opportunity to potentially hear from cancer survivors. These hour long webinars will be held during the Fall 2020 semester on Fridays at 11am. Come out and join us!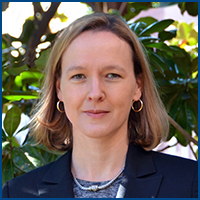 Rebecca Fry, PhD
Carol Remmer Angle Endowed Professor, Department of Environmental Sciences and Engineering
Associate Chair, Strategic Initiatives, Department of Environmental Sciences and Engineering
Director of Graduate Studies, Curriculum in Toxicology
Research Professor, Department of Pediatrics
Director, Institute for Environmental Health Solutions (IEHS)
UNC Gillings School of Public Health
University of North Carolina at Chapel Hill
Environmental Drivers of Cancer
Lecture Description
This lecture will highlight contaminants in the environment that are known to cause cancer and describe how exposure is related to cancer risk. Ubiquitous cancer-causing agents in the environment will be highlighted including both organic and inorganic chemicals. Environmental issues of concern in NC such as coal ash storage and naturally-occurring toxicants will be described.
Learning Objectives:
List key ubiquitous cancer-causing contaminants in the environment.
Describe factors influencing differential exposure to environmental contaminants.
Detail biological mechanisms underlying contaminant-induced cancers.
Discuss methods for contaminant reduction and public health improvement.
Register to Attend via Zoom Webinar Link
---
*Lecture topic subject to change.
Related Events